Services
Recruiting and Staffing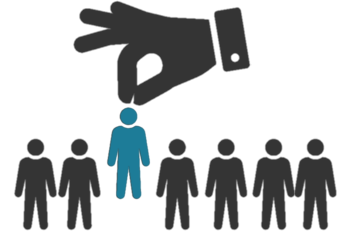 Identifying the people who are the 'right fit' for the job is our core competency. From permanent employees to contract staff, full time to part time, experienced to fresher, senior managers to junior managers, we find the best people for any role or level. We specialize in recruitment of middle and senior management professionals, and for technical specialist in niche skills such as IT Services, Software Development, Data Base Administration, ERP applications, Datawarehousing applications, Accounting, Logistics, Financial services application etc for corporations in USA, the Middle East and India. We provide solutions for clients in industries such as IT Services, Financial Services, Pharmaceuticals, Healthcare, Media, Retail, Consumer Goods, Telecom, Cosmetics, Shipping and Engineering. With each client assignment we undertake the learning required to become fully conversant with the needs of the organization, based on either specific position requirements or particular skills specifications identified. We have been successful in providing the Skills, Methodology, and Experience necessary to meet the expectations of our clients.
Training
Through our partner network, we provide a wide range of training and development solutions, aligned to your strategy and skills requirements. Get the people with skills you need, when you want them.
Software Training
SOFTLABS's professional teams have rich experience in developing and implementing software products and projects both for domestic and overseas clients. The technical expertise includes latest technology areas such as
Amazon Web Services (AWS Cloud Platform)
Identity and Access Management
Analytics
Java / J2EE
Mobile Applications (iOS, Android, Windows)
Our domain areas and expertise include
Insurance
Healthcare
Banking
Financial Services
Manufacturing
Education
Retail
Based on the areas of strengths and focus, we provide training to candidates on the areas mentioned above. This will improve their skills to make them highly resourceful and productive in their assignments.
HR Services
We deploy a range of services, tools, and processes for efficient recruiting, pre-screening, technical assessment, background verification, employment verification. Our large database of available candidates combined with global delivery capability brings you faster results with improved outcomes. We can help meet your HR needs in a cost efficient and effective manner. Our global best practices in recruitment and people management help you stay ahead in the talent market. Our interviewing and reference checking techniques along with our objective assessment provide us with the basis for minimizing many of the risks inherent in selection and has proven effective in managing a wide portfolio of jobs from diverse industries.
Recruitment Process Outsourcing (RPO)
The RPO division of Softlabs offers a wide range of services from sourcing, screening, background checking to full-cycle recruiting of US based IT professionals for our strategic partners and clients located in the USA. These services are delivered by dedicated experienced sourcing, screening and recruiting experts who work as an "extended team" for the recruiting department of our partners and clients. Our recruiters represent and promote your company to candidates and clients. Our services are offered at a monthly flat fee basis without any long-term contractual commitments. The RPO team works night shift to ensure speedy response to meet the needs of our US clients.
Our RPO services includes the following
Sourcing, Screening, and Recruiting Programs
Dedicated trained and experienced recruiting staff can augment your recruiting team in contract hiring as well as permanent hiring.
Leveraged Sourcing of IT professionals
We use our network of over 125 senior software professionals to actively source the candidates who possess the right fit. We also use active database with links to multiple job boards - Dice, Monster, Hotjobs, CareerBuilders.com, NetTemps, Naukri, Timesjob, and other sites - Unique searching and posting technology for better sourcing efficiency and effectiveness.
Online Applicant Tracking System
Web-based system to keep your recruiting process streamlined and to keep track of requisitions, candidates, and interviews.